How to Make the Most of a Small Garden
A few tips what you can achieve in your small garden
Planting
Salvia 'Caradonna' – as it it has a very extended flowering period which provides vertical interest as well in a small border or a planter. Just need to keep deadheading and it will flower for ages.
Aquilegia varieties – after the flowers are gone, you can still enjoy the dried up seedheads as they rattle in the wind – it also self-seeds so no need to replant year after year.
Geranium 'Rozanne'- a very reliable trailing plant with prolonged flowering period
Pittosporum tobira 'Nana' – a small, compact and evergreen shrub, a good choice to plant instead of box balls (as boxes are hard to keep healthy nowadays, prone to disease)
Amelanchier lamarckii – a small fruit tree. The multistem varieties look very good in a small garden, as they don't grow too quick, provides flower interest in late spring and produces edible and very enjoyable berries in summer, which you have to get before the birds do! It also displays fine fiery Autumn colours and looks wonderful in winter as a sculptural feature.
What to avoid:
too many different kind of materials can make the space feel smaller
the same with having too many features: sometimes less is more, and instead of cramming everything into the design, decide what features you actually need and will definietly use
avoid flat designs – create different levels, even if it is just a raised bed: level changes make a space more dynamic. Use the vertical plane, with overhead beams or small pergola,  giving you added interest and another dimension to grow some climbing plants, twisting grapevines etc creating atmosphere and privacy.
How to enlarge space:
using mirrors in a garden is always a good tactic – it can reflect sunlight if it is angled in the right direction and it also makes the space feel bigger
with dwarf plants – many of the most common shrubs and trees are available now in dwarf sizes, so you don't have to give up on your favourite plant
go vertical – by creating raised beds, pergolas, or fixing boxes to the walls you can make more planting space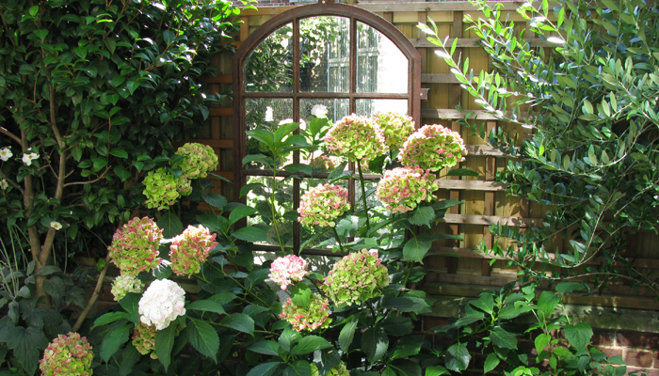 You can read more about the subject in this info-graphic: